Nvidia's stock surged to a new record high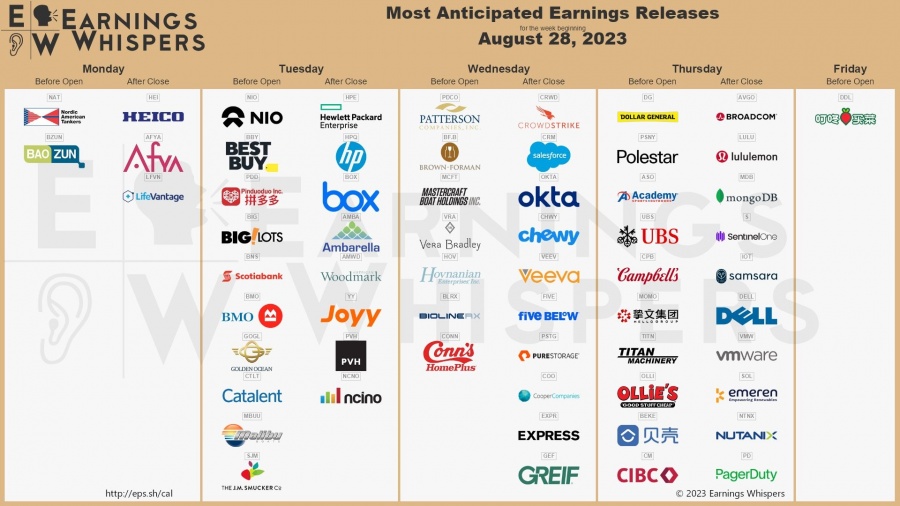 English:
Markets:
Stocks rallied Friday as investors welcomed comments from Federal Reserve Chairman Jerome Powell in Jackson Hole that pointed to stronger than expected economic growth. Traders cheered Powell's confidence in continued U.S. economic growth, as he cited "especially robust" consumer spending and early signs of recovery in the housing market, while reiterating the Fed's commitment to pull inflation back to its 2% goal. The Fed chief's remarks were eventually seen as being free of surprises, with Powell reaffirming a data-dependent approach and saying that policymakers at upcoming meetings would "proceed carefully" while assessing incoming economic data. Top stock market indices were mixed for the week too, with the Dow Jones edging 0.4% lower, but the S&P 500 gaining 0.8% and the Nasdaq Composite closing 2.3% higher.
News:
ARM IPO: Arm, owned by SoftBank, has filed for an IPO on the Nasdaq exchange, marking a significant move 18 months after Nvidia's $40 billion bid for Arm fell through due to regulatory challenges. Arm, which designs and licenses microprocessor blueprints, generated $2.68 billion in revenue for the last fiscal year. Its filing revealed no specified share price. With over 30 billion Arm-based chips shipped last year, the IPO aims to provide SoftBank with capital to invest in startups, aligning with SoftBank CEO Masayoshi Son's plan to focus on artificial intelligence. The IPO's success hinges on investor interest, and details about the offering's size and valuation are yet to be disclosed. The move signifies SoftBank's strategy to rebound from losses incurred since its failed acquisition of Arm by Nvidia. Arm's previous success in mobile technology and its recent expansion into data center servers under CEO Rene Haas will be pivotal in attracting investors and driving future growth, possibly prompting adjustments to its business model for increased revenue generation.
Nvidia: Nvidia's stock surged to a new record high as the chipmaker exceeded expectations by delivering better-than-expected results in both revenue and earnings for the fiscal second quarter and provided robust guidance for the next quarter. Despite an initial rise of up to 8%, the shares later settled to close nearly unchanged at $471.74. The company outperformed with adjusted earnings per share of $2.70, surpassing the Refinitiv consensus forecast of $2.09, and reported quarterly revenue of $13.51 billion, notably above the anticipated $11.22 billion. Nvidia's projection of approximately $16 billion in revenue for the fiscal third quarter, a remarkable 170% increase from the prior year, further bolstered investor confidence, leading JPMorgan to raise its price target from $500 to $600 while reaffirming an overweight rating on the stock.
Homebuilders: US homebuilder stocks, including DR Horton, Lennar, and NVR, have defied expectations by rallying strongly this year, even as mortgage rates have doubled over the past year and a half. Warren Buffett's Berkshire Hathaway has invested $814 million in these stocks. Shares in these companies have risen about a third each this year, outperforming the S&P 500 index. Rising mortgage rates have benefited homebuilders as they've trapped existing homeowners in their properties, reducing the supply of existing houses and driving demand for new homes. Despite concerns about supply chain constraints and cost inflation, analysts remain optimistic about the sector's upside potential, anticipating strong growth in book values for industry leaders.
Weekly ETF:
The Vanguard Dividend Appreciation ETF (VIG) is an exchange-traded fund designed to provide investors exposure to a diversified portfolio of US stocks that have a consistent history of growing dividends. It tracks the NASDAQ US Dividend Achievers Select Index and includes companies like Microsoft Corp (MSFT), Apple Inc (AAPL), Procter & Gamble Co (PG), Johnson & Johnson (JNJ), Visa Inc (V), Mastercard Inc (MA), Home Depot Inc (HD), UnitedHealth Group Inc (UNH), Verizon Communications Inc (VZ), and PepsiCo Inc (PEP).
Earnings this week:
Tuesday, August 29 - Best Buy (BBY), J. M. Smucker (SJM), PDD Holdings (PDD), Bank of Montreal (BMO), HP (HPQ), NIO (NIO), and Bank of Nova Scotia (BNS).
Wednesday, August 30 - Salesforce (CRM), CrowdStrike (CRWD), Brown-Forman (BF.A), and Five Below (FIVE).
Thursday, August 31 - Campbell Soup (CPB), Broadcom (AVGO), UBS Group (UBS), VMware (VMW), Dell Technologies (DELL), and Lululemon (LULU).